Skip to Main Content

It looks like you're using Internet Explorer 11 or older. This website works best with modern browsers such as the latest versions of Chrome, Firefox, Safari, and Edge. If you continue with this browser, you may see unexpected results.

<!–– Div/Div Style centers the banner, Div class = container builds the frame for the image, Width/Height Sets the sizeof the image ––>
Launched in 2008, the Cooking collection was established to address the needs and interests of elementary school students and their families. The collection encompasses all aspects of food—from growing to harvesting, preparation, and consumption. The materials address topics including individual ingredients, regional cuisines, historical periods, as well as nutrition, and careers in cooking. Branching out from traditional cookbooks written for children, the Cooking collection also includes food- and cooking-themed fiction, picture books, and poetry, as well as professional resources for teaching with these materials. Since the collection has become digital, and therefore accessible to students city-wide, the scope has expanded to include materials for K-12.
Some Essential Questions for Research:
What does food reflect and influence culture and identity? Why are certain food traditions important to a culture?

How is food impacted by the environment?

How do my food choices make a difference in my health (nutrition)?

How have changes in technology affected cooking?
Historical Cookbooks
Feeding America - Michigan State University
Feeding America is an online collection of some of the most important and influential American cookbooks from the late 18th to early 20th century. The digital archive includes 76 cookbooks from the MSU Libraries' collection as well as searchable full-text transcriptions.
The aim of the online collection is to highlight an important part of America's cultural heritage for teachers, students, researchers investigating American social history, professional chefs, and lifelong learners of all ages.
Online Exhibitions
Lunch Hour @ The New York Public Library (2012) (archived)
Our Global Kitchen @ American Museum of Natural History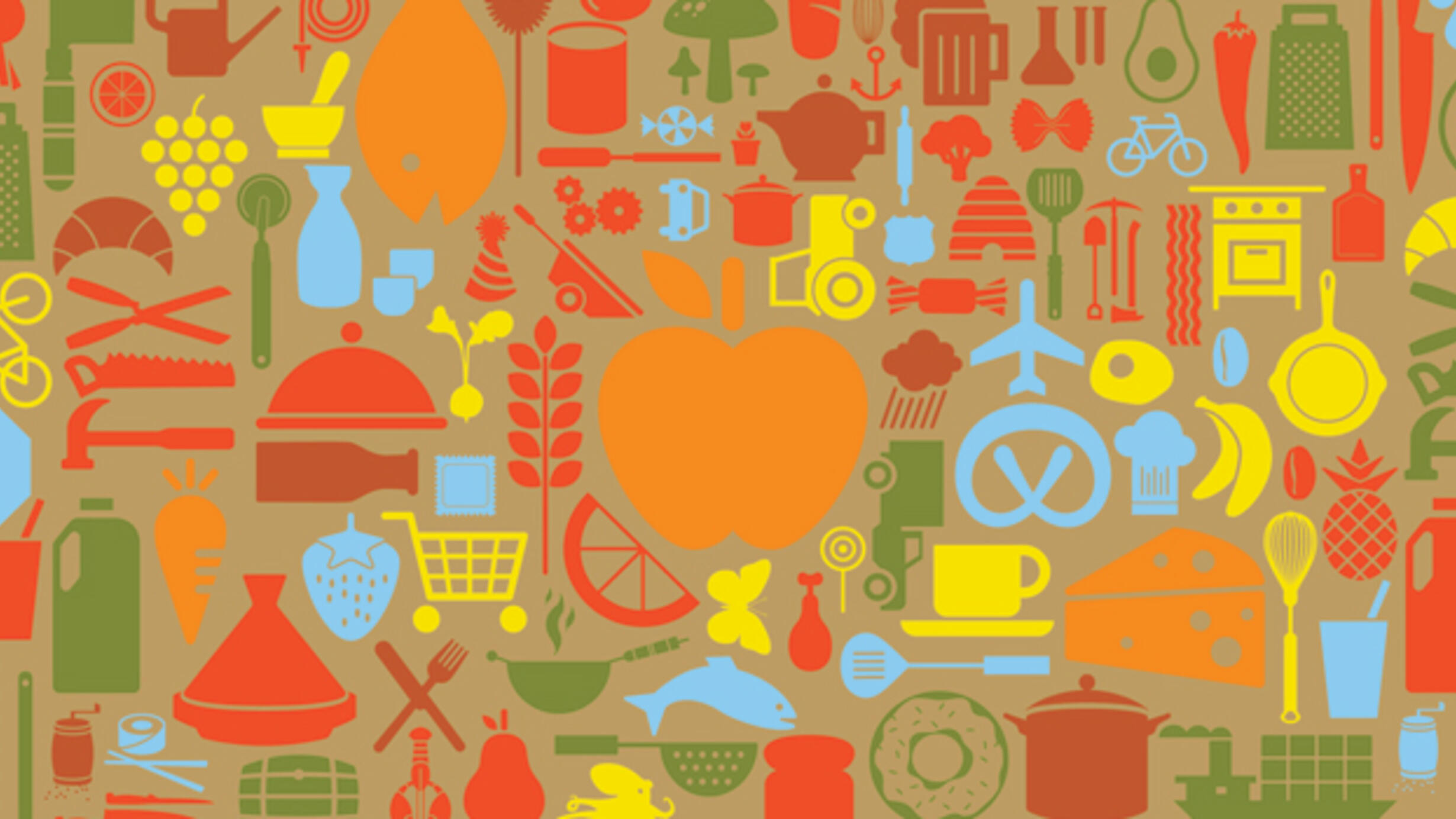 Food Curriculum + Standards
Pilot Light Food Education Center
The Food Education Center includes Pre-K-12 lessons for students that make it easy to integrate food education into existing curricula and to inspire your students' curiosity while continuing to build informed relationships with food. Pilot Light was started with chefs and teachers partnering together using food in the classroom as a tool to teach traditional school subjects, and now all teachers can use Pilot Light's free lesson plans for their students!
Includes grade-specific competencies, K-12 and lesson plans
Curator
Cheryl Wolf, Librarian
The Neighborhood School (P.S. 363) and S.T.A.R. Academy (P.S. 363)
121 East 3rd Street
New York, NY 10002
Highlights from the Collection (Print Books)
Dorie's Cookies

by

ISBN: 9780547614847

Publication Date: 2016-10-25

James Beard Award-winner for Best Baking and Dessert Book 2017 All-new collection from a "revered icon" and "culinary guru" (New York Times). Over the course of her baking career, Dorie Greenspan has created more than 300 cookie recipes.

The Forest Feast for Kids

by

Call Number: 641.5 GLE

ISBN: 141971886X

Publication Date: 2016-02-16

The Forest Feast for Kids includes the most kid-friendly favorites from The Forest Feast, along with 20 new recipes, plus ideas for kids' parties and easy-to-follow instructions on techniques, measurements, and other helpful kitchen aides. The first children's cookbook from New York Times bestselling author and popular food blogger Erin Gleeson, The Forest Feast for Kids, serves up kid-friendly vegetarian recipes that are quick, easy, and fun to make.

The World in My Kitchen

by

Call Number: 641.8 BRO

ISBN: 1848992971

Publication Date: 2016-07-26

Imagine a book that transports kids thousands of miles away with the fresh, healthy dishes of different lands. This book leads little people to explore countries and cuisines to try themselves. Simple recipes, using fresh, healthy and easy-to-source ingredients, with suggested substitutions, will open up different tastes, aromas and cuisines.

Kid in the Kitchen

by

ISBN: 9780593232286

Publication Date: 2020-11-10

The New York Times Food columnist and beloved home cooking authority welcomes the next generation of chefs into the kitchen with 100 recipes that are all about what YOU think is good. NAMED ONE OF THE BEST COOKBOOKS OF THE YEAR BY THE NEW YORK TIMES BOOK REVIEW AND TOWN & COUNTRY Whether you're new to cooking or you already rock that kitchen, these 100 recipes make it easy to cook what you like, exactly how you like it. In Kid in the Kitchen, Melissa Clark, who has been cooking with her own kid for years, takes you step-by-step through how to understand and create each dish. These recipes are fun, insanely delicious, and will help you become a confident cook.
Websites
Coast2Coast

Recipes from across the U.S.A. , with state food symbols and state agricultural products

The Food Museum: Exploring and Celebrating Food

An online museum dedicated to discovering, exploring and promoting the world's foods, their histories, and relevance today.

Food Network: Cooking with Kids

Check out easy kid-friendly recipes and tips from Food Network to get the whole family in the kitchen.

The Food Timeline

Ever wonder how the ancient Romans fed their armies? What the pioneers cooked along the Oregon Trail? Who invented the potato chip...and why? So do we!!! Food history presents a fascinating buffet of popular lore and contradictory facts. Some experts say it's impossible to express this topic in exact timeline format. They are correct. Most foods are not invented; they evolve. We make food history fun.

The Great American Potluck

From the Library of Congress, a database of recipes from immigrants from around the world, and the stories behind them.

Kids' Gardening

Garden education site; includes "Edible Gardens" section.

Kids Cooking Activities

This site provides simple recipes and how-to videos for kids, as well as tips for safety and ease.

The Kids Cooking Network

A "Virtual Kids' Food News Magazine™"

Mollie Katzen

A great selection of children's cookbooks and recipes.

Science of Cooking

Discover how a pinch of curiosity can improve your cooking! Explore recipes, activities, and Webcasts that will enhance your understanding of the science behind food and cooking.

Spatulatta: Cooking for Kids

This website provides recipes that kids can help make with an adult. The creators of this website wrote a cookbook called "The Spatulatta Cookbook" by Isabella and Olivia Gerasole.

Young Chefs Program

Hand-on cooking education resources. Includes lesson plans for instructor use, in addition to a number of recipes for an academic or home setting.
Waffles + Mochi
The DOE is committed to creating and supporting learning environments that reflect the diversity of New York City. To ensure that our website serves the needs of everyone, it follows the Web Content Accessibility Guidelines 2.0, Level AA. That means the sites work for people with disabilities, including those who are blind and partially sighted. We are committed to creating accessible digital experiences for all website visitors. If you require assistance with any documents on our site, please please call 917-521-3654, email mdodes2@schools.nyc.gov, or mail to: Michael Dodes, 4360 Broadway, 4th Floor, New York, NY, 10033 for assistance.